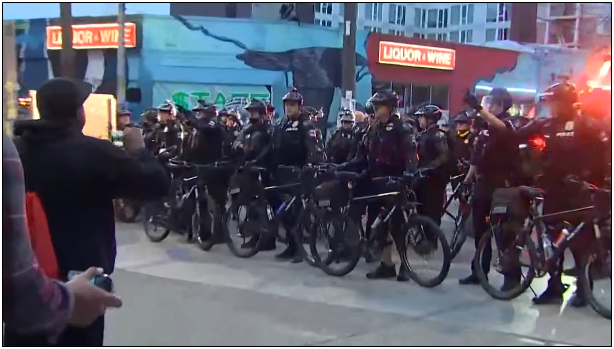 Seattle Police have finally overthrown and dispersed the democratic republic of the Capitol Hill Autonomous Zone (CHAZ) in downtown Seattle, reclaiming the Third Precinct after a three-week occupation by sometimes armed Antifa and Black Lives Matter activists.
In a 5 a.m. PST tweet on July 1, Seattle Police announced Democratic Mayor Jenny Durkan's executive order to end the occupation, stating, "Due to ongoing violence and public safety issues in the East Precinct/Cal Anderson Park area. Mayor Jenny Durkan has issued an executive order to vacate the area. Seattle police will be in the area this morning enforcing the Mayor's order."
So far, at least 32 individuals (and counting) have been arrested as part of clearing out the occupation as of this writing.
Chief of Police Carmen Best issued a statement on retaking the neighborhood, saying in part, "[E]nough is enough. The CHOP has become lawless and brutal. Four shootings — two fatal — robberies, assaults, violence and countless property crimes have occurred in this several block area. My job, and the job of our officers, is to protect and serve our community."
The executive order came from Democratic Mayor Jenny Durkan three days after her residence was marched on by protesters on June 28.
The Mayor's office had issued a statement blasting the march as a threat: "Mayor Durkan and her family are in the state program to keep their address confidential because of the death threats mostly related to her work as Seattle's U.S. Attorney under President Obama.  Instead of working to make true change, Councilmember Sawant continues to choose political stunts.  Tonight she did so without regard for the safety of the Mayor and her family. The Mayor was not even home — she was working at City Hall.  Seattle can and should peacefully demonstrate but should not put families and children at risk."
The failed occupation and renewed police presence comes amid calls nationwide to defund and disband police departments across the country, and could mark a turning point in the protests and sometimes riots that were sparked after George Floyd's death in May while in Minneapolis police custody.
If anything CHAZ demonstrates precisely what can happen when elected officials force police to abandon the areas they are duty-bound to protect — whatever faction locally can use force to seize power will do so. In the case of Seattle, it was armed Antifa and Black Lives Matter activists.
In other cities, the predictable result would likely include violent gangs seizing control of neighborhoods, calling into question the wisdom of telling police to stand down. Already, cities across the country are seeing murder rates and shootings spike upwards, including in New York City, Chicago and Los Angeles, thanks in large part to the riots and to elected officials withdrawing police during the crisis.
Guess you need police after all.
Democrats were already divided on the issue when the riots began. In a recent ABC News/Ipsos poll, a solid 64 percent of Americans reject the idea of defunding the police, including 91 percent of Republicans, 45 percent of Democrats, 43 percent of blacks, 58 percent of Hispanics and 74 percent of whites.
That political divide, which pits younger radical Democrats versus those older, creates a huge political opportunity for President Donald Trump on law and order versus former Vice President Joe Biden, who to keep his party together will have to by definition take a weaker stance. As can be seen in the former CHAZ, the majority Biden would build there is on a foundation of sand.
Robert Romano is the Vice President of Public Policy at Americans for Limited Government.