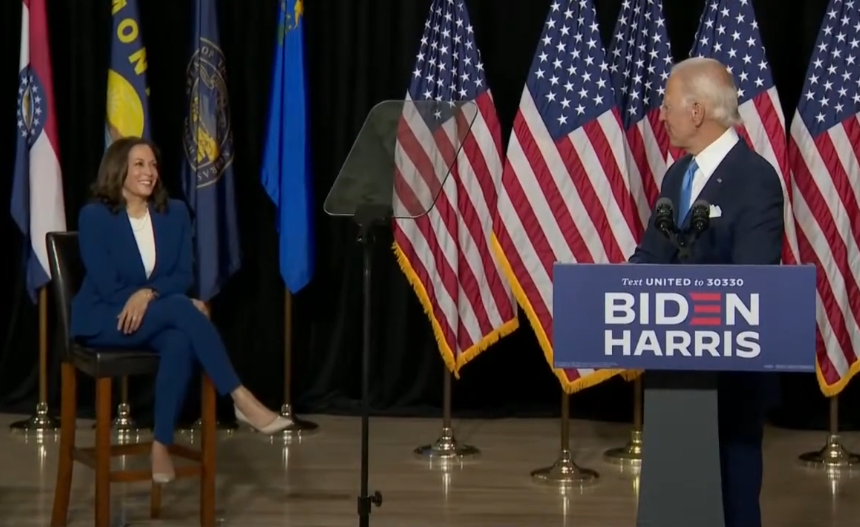 Former Vice President Joe Biden has selected U.S. Sen. Kamala Harris (D-Calif.) as his running mate and presumptive Democratic Party nominee for Vice President in the 2020 election as the Biden campaign goes all in on the defund the police issue.
In June Sen. Harris supported cutting $150 million from the Los Angeles Police Department (LAPD) budget and taking the police force below 10,000 for the first time in more than a decade.
"I applaud Eric Garcetti for doing what he's done," Harris told ABC's Good Morning America host George Stephanopoulos in June, adding, "Right now, what we're seeing in America is many cities spend over one-third of their entire city budget on policing but meanwhile we've been defunding public schools for years in America."
Harris explained, "We've got to re-examine what we're doing with American taxpayer dollars and ask the question: are we getting the right return on our investment? Are we actually creating healthy and safe communities? That's a legitimate conversation and it requires a really critical evaluation."
The pick of Harris comes as Biden for his part has attempted to thread the needle on the issue by saying he doesn't want to defund the police, he wants to condition federal funding on whether police are "honorable."
Biden told CBS News in an interview: "No, I don't support defunding the police. I support conditioning federal aid to police based on whether or not they meet certain basic standards of decency and honorableness and … are able to demonstrate they can protect the community."
Meaning, if police departments did not meet up with Biden's criteria, he would indeed deny funds.
But it comes at a time when Democrats and the country are deeply divided on the defund the police issue, both in polls among voters and among the party establishment.
In June, an ABC News/Ipsos poll found 64 percent of Americans reject the idea of defunding the police, including 91 percent of Republicans, 45 percent of Democrats, 43 percent of blacks, 58 percent of Hispanics and 74 percent of whites.
Those numbers swelled in a July Pew poll that found 73 percent say police funding should either remain the same or increase, including 42 percent who say police spending should remain the same and 31 percent say it should be increased.
Only 25 percent of Americans supported cutting spending for local police departments in the Pew poll, with just 12 percent saying it should be decreased a lot and another 14 percent saying it should be reduced a little.
By picking Harris, who supported cutting LAPD funding by $150 million, Biden is running a national political program with as little as 25 percent public support.
Biden could have used the VP selection to distance himself from this issue, which is inextricably linked to the ongoing riots in the wake of the death of George Floyd in Minneapolis police custody. Instead he chose to use the VP pick to sharpen his stance on it, and to ensure that the election will be about race and police by shoring up Biden's anti-police bonafides.
To be fair, though, finding a national Democratic political figure somehow not wrapped up in this issue is extraordinarily difficult. The party is under incredible pressure at the moment.
In short, Harris is a sop to the BLM-Antifa wing of the party, a signal by Biden to the rioters and protesters that says "I'm with you", but at the cost of moderate Democrats in suburban areas who oppose defunding the police. At Biden's age of 77, he needed somebody that would project confidence to lead the nation.
Instead, Biden and Harris seem to want to meet the protest movement halfway, seeking out a weak middle position that strips police of resources at the very time of heightened violent crime and civil unrest.
And, by selecting a California radical senator, it is questionable if Biden picks up any votes among Independents or Republicans, which he surely needs if he is to have any hope of pulling out swing states. Is Biden trying to lose the suburbs?
Robert Romano is the Vice President of Public Policy at Americans for Limited Government.