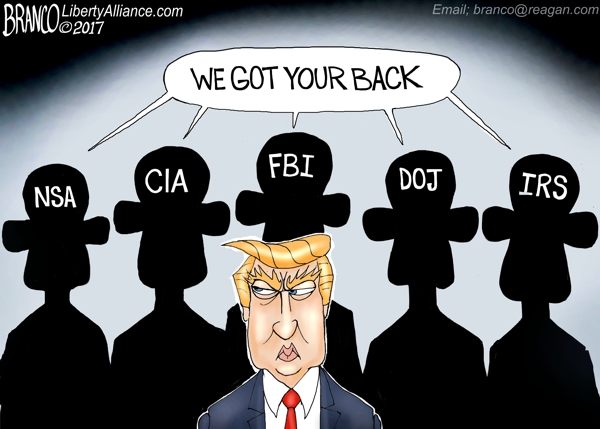 On Aug. 7, the Director of National Intelligence (DNI) issued an assessment stating, "We assess that China prefers that President Trump — whom Beijing sees as unpredictable — does not win reelection."
Once again, U.S. intelligence agencies are getting involved with American presidential electoral politics, this time issuing an assessment alleging that China wants to see President Donald Trump defeated by former Vice President Joe Biden.
The press statement explained, "Many foreign actors have a preference for who wins the election, which they express through a range of overt and private statements; covert influence efforts are rarer. We are primarily concerned about the ongoing and potential activity by China, Russia, and Iran."
The assessment was reminiscent of the Jan. 2017 assessment issued by DNI prior to President Trump's inauguration finding Russia had sought to help him defeat former Secretary of State Hillary Clinton: "We assess Putin, his advisers, and the Russian Government developed a clear preference for President-elect Trump over Secretary Clinton… [and] the influence campaign aspired to help President-elect Trump's chances of victory when possible by discrediting Secretary Clinton and publicly contrasting her unfavorably to the President-elect."
The 2017 statement for DNI was designed to knee-cap President Trump on his way into office, and to legitimize the FBI's ongoing counterintelligence investigation into the Trump campaign and then the White House on false allegations that Trump and his campaign were Russian agents who had helped Moscow hack the Democratic National Committee and put its emails onto Wikileaks.
It was a pretext to take down President Trump.
It was only more than two years later that Special Counsel Robert Mueller debunked that conspiracy theory, writing in his March 2019 report, "[T]he investigation did not establish that members of the Trump Campaign conspired or coordinated with the Russian government in its election interference activities," and "the evidence does not establish that the President was involved in an underlying crime related to Russian election interference."
In testimony before House Judiciary and Intelligence Committees on July 24, 2019, Mueller put a fine point on it, stating, "the investigation did not establish that members of the Trump campaign conspired with the Russian government in its election interference activities. We did not address collusion, which is not a legal term; rather we focused on whether the evidence was sufficient to charge any member of the campaign with taking part in a criminal conspiracy, and there was not."
A 2018 poll by Axios at the height of the Mueller investigation showed 47 percent of Republicans had an unfavorable view of the FBI, with only 38 percent of Republicans having faith in the bureau.
In other words, the investigation of President Trump by intelligence and counterintelligence agencies undermined public attitudes toward the country's national security apparatus.
After the revelations by Justice Department Inspector General Michael Horowitz in his Dec. 2019 report, however, that faith has been completely shattered.
And it is already leading to a conviction with, former FBI lawyer Kevin Clinesmith is expected to plead guilty to falsifying an email to help keep the Justice Department's Foreign Intelligence Surveillance Act (FISA) warrants against the Trump campaign.
According to Horowitz's report detailing FISA abuses, "SSA 2 received an email from the OGC Attorney that appeared to be forwarding the Liaison's June 15 response email concerning Page's historical contact with the other U.S. government agency. However, the OIG determined that this forwarded version of the Liaison's response email had been altered. Specifically, the words 'and not a 'source…' had been inserted in the Liaison's June 15 response after the word "[digraph]." Thus, the Liaison's email was altered to read: 'My recollection is that Page was or is and [sic] '[digraph]' and not a 'source' but the [documents] will explain the details.'"
The Horowitz report also detailed that the FBI hid other exculpatory evidence that would have cleared President Trump of any wrongdoing from the Justice Department and the FISA report. That included that the primary sub-source used by former British spy Christopher Steele in the DNC and Clinton campaign-paid for dossier that was used by the FBI had contradicted Steele's findings in a Jan. 2017 interview by the FBI before Trump was even sworn into office.
According to Horowitz, "the Primary Sub-source made statements during his/her January 2017 FBI interview that were inconsistent with multiple sections of the Steele reports, including some that were relied upon in the FISA applications. Among other things, regarding the allegations attributed to Person 1, the Primary Sub-source's account of these communications, if true, was not consistent with and, in fact, contradicted the allegations of a 'well-developed conspiracy'…"
The loss of public confidence in intelligence and counterintelligence agencies is the consequence of getting directly involved in presidential electoral politics on false grounds and undermining the peaceful transfer of power from the Obama administration to the Trump administration.
It's akin to the boy who cried wolf. That is why at a time when the American people are already losing confidence in our nation's security institutions, presidential administrations issuing more assessments about foreign adversaries preferring the incumbent party's opponents does two things: 1) it politicizes intelligence agencies; and 2) it delegitimizes other intelligence gathering designed to avert real and present threats to national security.
Given, then, the history involved with DNI's prior assessment — that it was a pretext to an expansive counterintelligence and criminal investigation by the outgoing Obama administration into the incoming Trump administration on false grounds — releasing a statement implying that China prefers Joe Biden raises similar questions.
Namely, what is the evidence? Is China trying to infiltrate the Biden campaign? What are they doing to ensure President Trump's defeat in November? Are these false allegations, too?
The DNI doesn't really tell us, instead vaguely warning, "China has been expanding its influence efforts ahead of November 2020 to shape the policy environment in the United States, pressure political figures it views as opposed to China's interests, and deflect and counter criticism of China. Although China will continue to weigh the risks and benefits of aggressive action, its public rhetoric over the past few months has grown increasingly critical of the current Administration's COVID-19 response, closure of China's Houston Consulate, and actions on other issues. For example, it has harshly criticized the Administration's statements and actions on Hong Kong, TikTok, the legal status of the South China Sea, and China's efforts to dominate the 5G market. Beijing recognizes that all of these efforts might affect the presidential race."
But, wouldn't China issue statements "pressur[ing] political figures it views as opposed to China's interests" or "deflect and counter criticism of China" or "harshly criticized the Administration's statements and actions on Hong Kong" in a non-election year?
The evidence is even thinner: "Beijing recognizes that all of these efforts might affect the presidential race."
Of course Beijing recognizes that its action can impact public attitudes. But so should the DNI. That is, the intelligence community should recognize that issuing an ill-advised statement that China wants President Trump to lose in November might similarly affect the presidential race — and stop interfering in presidential politics and elections. Enough is enough.
Robert Romano is the Vice President of Public Policy at Americans for Limited Government.