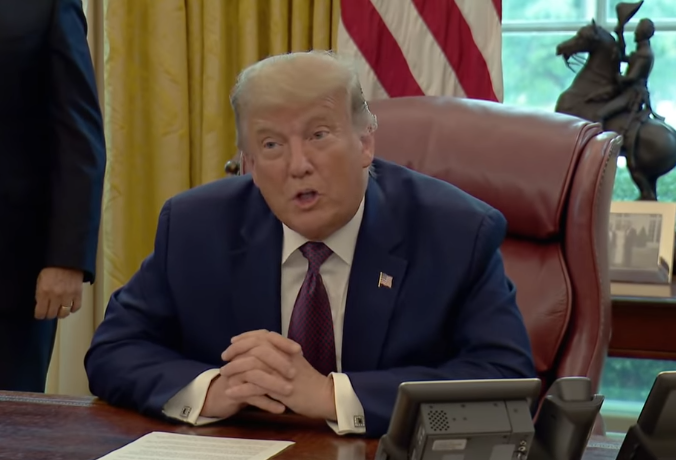 Another 1 million Americans left continued unemployment claims the week of Sept. 5 on an unadjusted basis, the latest data from the Department of Labor shows.
That brings the number collecting unemployment from its 13.8 million Aug. 29 level, and from its 22.8 million May 9 level, down to its current 12.3 million, an overall decrease of 10.5 million from its peak.
The biggest state gains the week of Sept. 5 were in California, with more than 256,000 coming off of continued claims, 115,000 in New York, 57,000 in Texas, 55,000 in Florida, 55,000 in Illinois and 51,000 in Ohio.
Meaning, when the September jobs numbers are reported the first week of October, the last monthly survey reported by the Bureau of Labor Statistics before the election, it promises to be another huge number of jobs recovered — it might be a couple million more — as the rapid economic recovery almost nobody but President Donald Trump predicted continues.
On March 25, the President promised, "I don't think it's going to end up being such a rough patch.  I think it's going to, when we open — especially, if we can open it — the sooner, the better — it's going to open up like a rocket ship.  I think it's going to go very good and very quickly."
Turns out, President Trump was right.
The 1 million who came off unemployment will surely build on the record 13.8 million jobs recovered in the Bureau of Labor Statistics' household survey in just four short months after labor markets bottomed in April with 25 million jobs lost — with millions more expected in the coming months as coronavirus daily new cases continue to stabilize.
In comparison, it took the Obama-Biden economy almost 5 years to recover the 8 million jobs lost in the financial crisis and the Great Recession after labor markets bottomed in Dec. 2009.
That's a real contrast, and one the American people would do well to remember.
Just think, we were at a 50-year low in unemployment at just 3.5 percent, and the latest Census data shows household median income increased by $4,400 in 2019 to a record of $68,700.
Americans for Limited Government President Rick Manning reacted to the favorable economic news, saying, "2019 demonstrated that capitalism, cutting unnecessary regulations, lower taxes and honest trade deals work together to decrease income inequality … While the impact of the China virus has set our economy back, there can be no doubt that President Trump has the right prescription for continuing the record rebound we are currently experiencing."
Now, President Trump is promising to get the economy back quickly, whereas former Vice President Joe Biden is told ABC News' David Muir that "I would shut it down" again to deal with the Chinese coronavirus.
On Aug. 24 tweet, President Trump responded to Biden's call to shut down the country again, writing, "Joe Biden has said he would lock down the Country again. That's crazy! We're having record job growth and a booming stock market, but Joe would end it all and close it all down. Ridiculous!"
One item to keep your eyes on is pending phase four legislation in Congress, a continuation of the CARES Act. The payroll protection plan supported 5.2 million small businesses — which President Trump credits with saving 50 million jobs during the state-led lockdowns.
Now, Senate Republicans have offered legislation that would continue that program, as well as to send more checks to taxpayers, extend the current unemployment benefits while removing perverse incentives for some workers to get paid more than they did at their jobs, and to cut down on potential fraud in the pandemic unemployment assistance by compelling beneficiaries to document that they had a job, mirroring existing federal disaster unemployment assistance standards.
So far, House Speaker Nancy Pelosi has blocked new legislation, but after a series of Trump executive orders to provide more financial support for the American people, vulnerable Democratic members in the House have prevailed on Pelosi to get something done for fear of being viewed as obstructing the economic recovery — and getting no credit for what was already done.
U.S. Rep. Max Rose (D-N.Y.) said he sent a direct message to Pelosi, telling Fox News, "To the leadership, we said this very simple message: It's time for you to stop playing games. Let's stop the charade. Let's stop this stupidity. Let's put the country first."
That tells you that many Americans are still hurting from the lockdowns — and time could be running out for Pelosi to preserve her House majority.
When most Americans were afraid about what the pandemic might mean, and Democrats were urging an economic shutdown, President Trump was taking aggressive action to save as many lives as possible and to plan ahead to enable the economy to safely reopen, with millions of jobs recovered.
At the end of the day, as the American people evaluate an incumbent administration they tend to be pocketbook-minded, and this happens to be one area President Trump does indeed have a great story to tell to voters. Stay tuned.
Robert Romano is the Vice President of Public Policy at Americans for Limited Government.