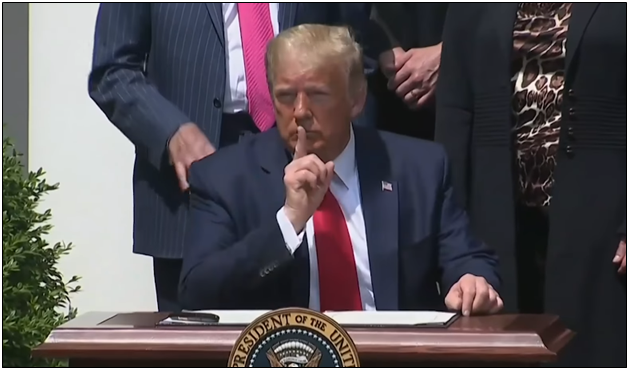 The President should be able to trust the advice he is given by senior bureaucrats, and he should be able to trust that his orders will be executed. Unfortunately for President Trump and his supporters, this has not been the case. To address this problem, Trump has taken a number of steps, including firing a number of his staffers. Recently, President Trump issued an executive order creating a new class of senior bureaucrats who can be hired and fired more easily.
Trump's executive order establishes Schedule F employees and lays out a process for determining to whom it will apply. The Schedule F classification is to apply to "career positions in the Federal service of a confidential, policy-determining, policy-making, or policy-advocating character" – in other words, senior bureaucrats.
Bureaucrats are paid to follow the law and implement the will of elected officials (and the voters who elected them). If these bureaucrats cannot or will not do their jobs, then they should resign or be removed. Let's not forget that the rewards of being a senior bureaucrat are significant: generous pay, generous pensions and other benefits, and job security.
Rick Manning, President of American for Limited Government, stated, "Schedule F is important because no president should be put in the position of not being able to trust the civil service. This executive order is a step in the right direction, but now Congress needs to take action and pass Senator David Perdue's MERIT Act which would make it easier to fire lazy or incompetent bureaucrats – not just senior ones – who will not do the job they were tasked to do."
Predictably, the Swamp is displeased. After all, liberal bureaucrats love the status quo in which they happily implement liberal policies for liberal presidents and then drag their feet and defy their superiors when ordered to implement conservative policies under conservative presidents. In defense of the Swamp, career politician Steny Hoyer (D-MD) swung into action issuing a statement and offering legislation to reverse the executive order. Hoyer absurdly stated, "President Trump has signed an Executive Order to further undermine the civil service. The Administration's Schedule F Executive Order would strip federal civilian employees of critical protections and make it easier to replace experienced, non-partisan civil servants with partisan individuals."
First of all, Trump's order does not undermine the civil service; it provides much-needed reform. Secondly, the problem is not that Trump wants to replace bureaucrats with partisans, it is that there are far too many partisan Democrats in senior bureaucratic roles who refuse to work for a Republican president and seek to undermine him and his appointees at every opportunity.
Bureaucrats who refuse to follow the lawful orders of presidents and senior administration officials are undermining our republic. Elections are supposed to have consequences. If they do not, then why should activists and voters bother spending their time participating in campaigns and elections? Of course, if voters ever give up on the ballot box as a means of shaping government policies, dark days lie ahead for the country. For these and other reasons, the Trump Administration's creation of a new class of bureaucrats who can be hired and fired more easily is a great policy.
Richard McCarty is the Director of Research at Americans for Limited Government Foundation.