Gov. Cuomo famously exclaimed that Covid "is death." He was close. His executive order was death.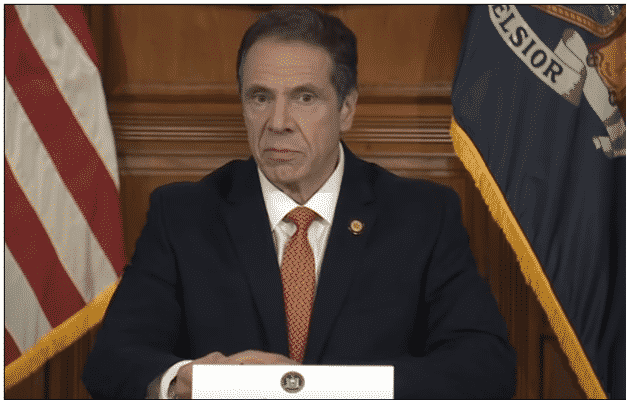 The nation has known as early as Feb. 2020 when the nursing home in Washington State had its Covid outbreak that the long-term care facilities had to be secured. Ultimately, 37 out of 120 residents of the Life Care Center in Kirkland, Washington ended up dying — 31 percent of the entire population of the nursing home. The last death from that period occurred on March 23, 2020.
Throughout the entire pandemic, 39 percent of all Covid deaths have occurred in nursing homes as of Dec. 2020, according to data compiled by the New York Times and the Covid Tracking Project.
In response to the situation in Washington State in early 2020, the Center for Medicare and Medicaid Services issued a guidance on March 13 that told nursing homes to only admit COVID patients if "the facility can follow CDC guidance for Transmission-Based Precautions. If a nursing home cannot, it must wait until these precautions are discontinued." This guidance was issued by the Trump administration in response to the threat posed to nursing homes.
12 days later, New York Governor Andrew Cuomo issued his ill-fated executive order on March 25, compelling nursing homes to accept Covid patients, and prohibiting them from requiring testing before readmission, stating, "During this global health emergency, all NHs must comply with the expedited receipt of residents returning from hospitals to [nursing homes] NHs. Residents are deemed appropriate for return to a NH upon a determination by the hospital physician or designee that the resident is medically stable for return… No resident shall be denied re-admission or admission to the NH solely based on a confirmed or suspected diagnosis of COVID-19.NHsare prohibited from requiring a hospitalized resident who is determined medically stable to be tested for COVID-19prior to admission or readmission."
By April 2020, the nation learned that the pandemic was disproportionately killing African Americans, with a New York Times report, "Virus Is Twice as Deadly for Black and Latino People Than Whites in N.Y.C."
Within weeks, this was followed by an April 22 report from NPR, that found the pandemic was ravaging particularly nursing homes that housed minorities including blacks: "In New York Nursing Homes, Death Comes To Facilities With More People Of Color".
But Cuomo would not rescind his nursing home executive order until May 10, 2020, after thousands had already perished in long-term care facilities. Why?
Nationwide, so far blacks have had 1.9 times the fatality rate as whites, according to the Centers for Disease Control. Hispanics have 2.3 times the death rate, and Native Americans have 2.4 times the fatality rate as whites.
Locally, too, Covid definitely hit blacks disproportionately. In New York, African Americans have accounted for 23 percent of Covid deaths even though they only make up 14 percent of the population, according to the Kaiser Family Foundation.
But this is not necessarily a nationwide phenomenon.
Compare that to Florida, for example, which did the opposite and ordered all nursing homes closed to visitors and that no COVID-19 patients be transferred to a nursing home, where blacks have made up 16 percent of Covid deaths and make up 15 percent of the population.
The states and regions that had the largest racial disparities for Covid fatalities were the District of Columbia, where blacks account for 76 percent of deaths but only 43 percent of the population, Michigan at 23 percent of deaths and 14 percent of the population, Louisiana at 39 percent of deaths and 32 percent of the population, Alabama at 31 percent of deaths and 27 percent of the population, South Carolina at 32 percent of deaths and 26 percent of the population and Virginia at 24 percent of deaths and 19 percent of the population.
Making matters worse, the Cuomo administration dramatically undercounted the number of nursing home deaths that resulted from Covid, leaving those who later died at a hospital out of the tally. By Jan. 19, New York was reporting 8,505 Covid nursing home deaths, but the true number was 12,743, by far the highest in the entire country. This confirmed a report from the New York Attorney General's office that found that Covid nursing home deaths had been undertallied by as much as 50 percent.
Without the Cuomo executive order and better guidance from the state's Department of Health, and those deaths would have been much, much lower, like they were in Florida and other states. In April, Gov. Cuomo famously exclaimed that Covid "is death." He was close. His executive order was death.
Robert Romano is the Vice President of Public Policy at Americans for Limited Government.