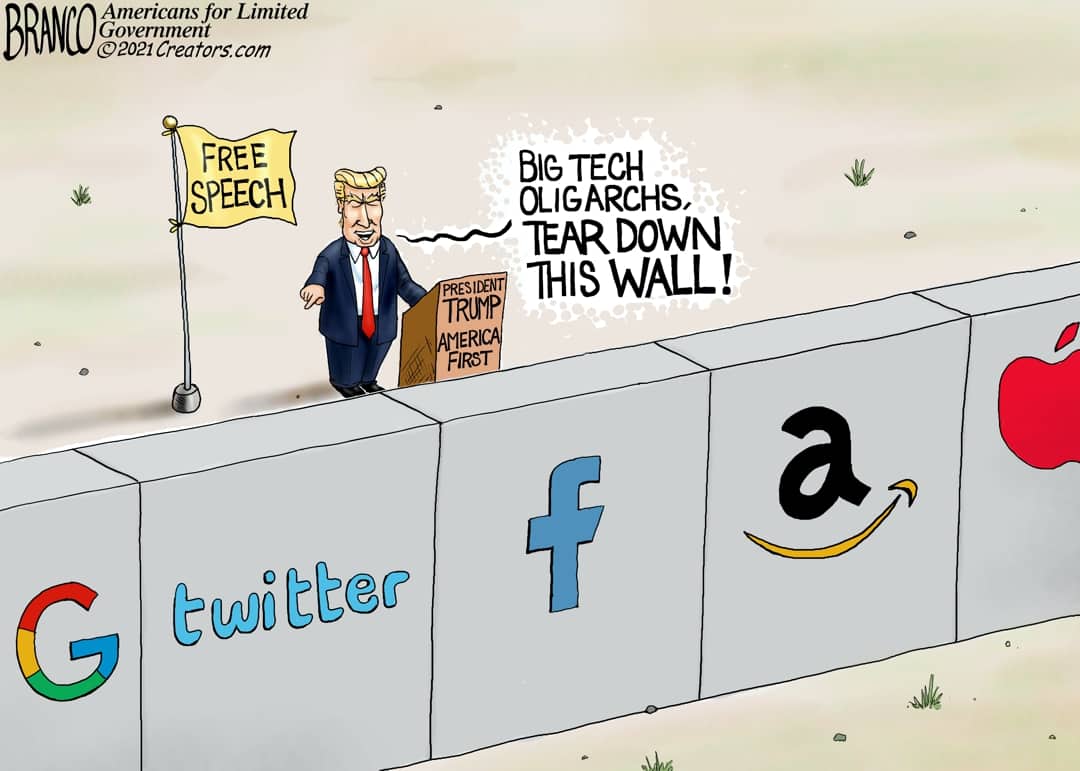 A group of bipartisan bills that purport to address Big Tech monopolies by Apple, Google, Amazon, Facebook and Twitter are being advanced in the House of Representatives, but they will probably not address political discrimination and deplatforming of individual users on these platforms like former President Donald Trump or Parler, who were removed from the internet in January..
Facebook has recently announced that its ban on former President Donald Trump will be extended for two years, meaning he won't be allowed back until after the 2022 midterms. Trump lost access to his Facebook and Twitter accounts after his speech at the Save America Rally on Jan. 6 in Washington, D.C. that preceded the riot at the U.S. Capitol.
In a similar vein, social media competitor Parler was kicked off of Amazon web servers, as well as being removed for several months from the Apple store, only recently returning, and is still unavailable from the Google Play store.
Now, a package of five bipartisan bills have been sent to the House Judiciary Committee to address Big Tech monopolies after a subcommittee found that these companies were wielding monopoly powers.
Two of those, the Ending Platform Monopolies Act, H.R. 3825, and the American Choice and Innovation Online Act, H.R. 3816, would make it unlawful for any company with 50 million monthly regular users and a market cap of over $600 billion with a conflict of interests from incentivizing "a product or service that the covered platform requires a business user to purchase… as a condition for preferred status or placement of a business user's product or services on the covered platform," and prohibit Big Tech companies from "restrict[ing] or imped[ing the capacity of a business user to access or interoperate with the same platform, operating system, hardware and software features that are available to the covered platform operator's own products, services, or lines of business," respectively.
While arguably a step in the right direction — federal antitrust laws were enacted more than a century ago and could certainly stand some updating to address the technological world we now live in where Big Tech has an omnipresent impact on our day-to-day lives — the legislation currently being considered only narrowly considers the monopoly powers that Big Tech companies are currently wielding over commerce, but not over political discourse and even individual behavior and beliefs.
By monitoring, moderating and censoring what companies view as hate speech or even supposed calls to violence, Big Tech companies can and are arbitrarily limiting, restricting or even eliminating access to their platforms, as happened to Trump and Parler, both wrongly, since neither had ever advocated violence.
On the contrary, former President Trump at his speech on Jan. 6 at the Save America Rally on the National Mall called for protesters to be peaceful: "We have come to demand that Congress do the right thing and only count the electors who have been lawfully slated, lawfully slated. I know that everyone here will soon be marching over to the Capitol building to peacefully and patriotically make your voices heard."
After the violence began, Trump on Twitter urged his followers to stop immediately: "I am asking for everyone at the U.S. Capitol to remain peaceful. No violence! Remember, WE are the Party of Law & Order – respect the Law and our great men and women in Blue. Thank you!" There's a link provided there, but it won't resolve, because Twitter deleted it after it banned Trump, supposedly for advocating violence.
Similarly, Parler, like other social media companies, does in fact remove content that violates its terms of service, including calls for violence and even content related to some of the violence that occurred on Jan. 6, but that did not save it from being purged by Amazon, Apple and Google at the beginning of the year.
Now, looking at the bills being offered, it is unclear they would have saved Parler from being wrongly deplatformed, even though as a social media company it was being anticompetitively deprived of services its own competitors, like Twitter, are utilizing.
And they certainly would do nothing from social media users who, like Trump or one of his supporters, are being politically purged simply for being.
The biggest reason is because antitrust is a blunt tool that can impact things like product placement or company mergers, but do not appear readily available to address civil rights violations like denied online access to political discourse, or Section 230 moderation by social media companies that certainly results in corporate censorship of unpopular views.
Then, what is the right balance?
Is it a world where Big Tech monopolies can silence critics? Or political dissent more broadly in a coordinated bid for one-party rule?
Or another where the Big Tech companies are declared by the Federal Communications Commission to be common carriers under Title II of the Communications Act of 1934? Or Big Tech's liability protection under Section 230 of the Communications Decency Act is amended or even repealed? Or where federal civil rights law is expanded to include online political communications?
Certainly Congress has the power to regulate commerce in this manner, but should it? If corporate censorship is viewed as a threat to our freedom and independence as a nation, to our democratic republic, then perhaps so.
To be certain, Republicans cosponsoring these bills should be aware of their shortcomings, and if and when they pass the House, it will likely be up to Senate Republicans to improve them by addressing the real and present danger of deplatforming that threatens to foster conditions conducive to a one-party state — where dissent may not be tolerated.
Robert Romano is the Vice President of Public Policy at Americans for Limited Government.