Because those fleeing Cuba "will never vote for the left's Marxist nightmare, they will be forced to continue living under one of the most repressive regimes in the world."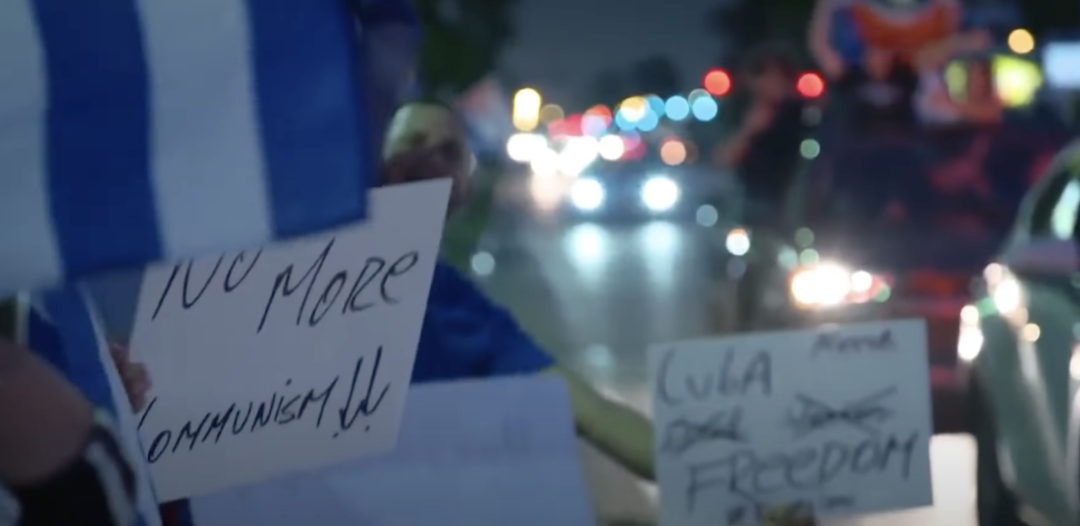 NBC News spoke with 50-year old Havana, Cuba resident Caridad Montes this week to understand what is behind the historic protests that continue to rocked the entire island of Cuba.
"It's very simple," said Montes, a Havana resident. "They are tired of the hardships and want changes for the better."
Cuba has been grappling with acute shortages of food and medicine throughout the pandemic. People make lines for blocks to buy whatever they can find at stores. Inflation and blackouts during the tropical summer heat have aggravated the situation.
But the most important factor that has led to years of economic stagnation is the country's Soviet-style, centrally planned economy and its hesitation to adopt market-oriented reforms that other remaining communist countries have taken.
Sen. Marco Rubio (R-Fla.) told Fox News the cause of the riots is simple, "Communism doesn't work and Marxism sucks."
Rubio, whose parents fled Cuba's oppressive regime in the 1950s, said things haven't improved on the island nation in the past 70 years. "People out there are saying 'We don't want to live under this oppressive regime.
We can't own a business. 'We can't feed our family and go out and find a job on our own. We Depend on the government for everything and they give us nothing.'"
Rubio said Cuba is the only country in the world where Cubans cannot succeed.
Rubio told Fox News that the full extent of the government crackdown on protestors is unknown because Cuban's communist government has shut off internet access. But he's heard reports that hundreds of Cubans have simply vanished in recent days.
Rubio Tweeted a video Wednesday showing Cuban police "literally going door to door forcing kids to join the street mobs attacking Cubans."
Mr. President @JoeBiden @StateDept the regime in #Cuba is literally going door to door forcing kids to join the street mobs attacking Cubans

It's been 72 hours since protests started

The situation is spiraling out of control.

We need to act NOW! pic.twitter.com/Sf9KXKJACF

— Marco Rubio (@marcorubio) July 14, 2021
"What's happening there is horrifying," Rubio said Wednesday. "It's hard for people to believe it, because it's the kind of stuff you read about happening 100 years ago."
Rubio often shares the story of how his family worked their way into America's middle class with his father working as a bartender and his mother taking various jobs including housekeeping. He said he's had frank discussions with his senate colleagues such as socialist Bernie Sanders about the nightmares of socialist regimes.
"Here is what I always tell people. You can talk about all this theory you want about Socialism but when you've lived it or are surrounded by people that lived it, you know what it means," explained Rubio.
"These people show up and they say the country is divided between a victim class and oppressor class," Rubio added. "Sound familiar?  And by the way, they say you have to give them power so they can go after the oppressor class. In exchange for less freedom, they promise to provide you all kinds of things to make you more secure. Of course, they never provide those things and you never get your freedom back."
That's the model command-and-control governments have followed everywhere in the world.
Rubio wants the Biden administration to call on the international community to condemn the Cuban government's human rights violations in order to prevent "a blood bath ninety miles from our border."
Instead, the Biden administration is focused on keeping Cuban from seeking political asylum in the U.S.
Department of Homeland Security Secretary Alejandro Mayorkas said he will bar all Cuban political asylum seekers and instead refer them to "third countries for resettlement."
Americans for Limited Government President Rick Manning thinks this is a political power grab from the left.
"Refusing to give political asylum to those who are legitimately fleeing political violence and oppression in Cuba, after opening the borders to anyone who makes an asylum claim from Central America, demonstrates that Biden's border policy is not about human rights," Manning said. "It is about importing voters."
Manning noted that because those fleeing Cuba "will never vote for the left's Marxist nightmare, they will be forced to continue living under one of the most repressive regimes in the world."
While Rubio warns that a mass migration of Cubans to America wouldn't be a good thing, he agrees with Manning that the Biden administration should be sending that same message to political asylum seekers from Central America.
When asked why Biden doesn't come out forcefully and condemn the communist regime in Cuba, Rubio explained it's because his party raises "millions of dollars a week" from the radical left-wing base which includes a Marxist element.
"I'm not saying it's a majority of the voters in the Democratic Party but I can tell you it is a large percentage of people who knock-on doors and donate and make small dollar donations who dictate policy."
Catherine Mortensen is Vice President of Communications for Americans for Limited Government.