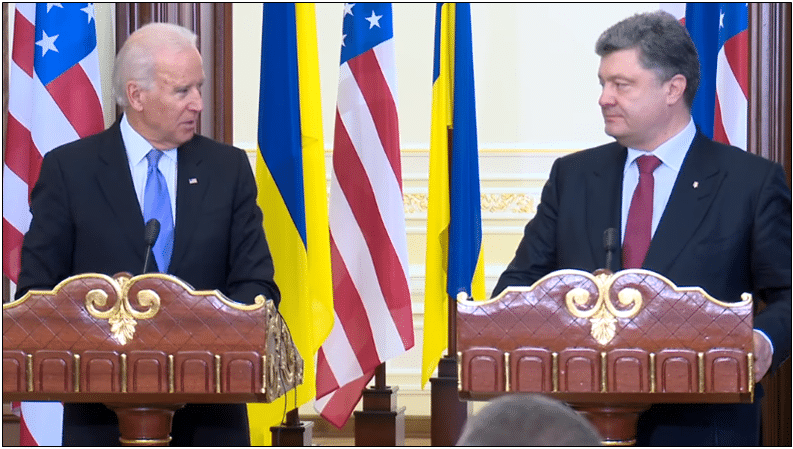 Blue Star Strategies, a Democratic lobbying firm that was representing Burisma Holdings, the Ukrainian natural gas firm that was being investigated by that country's prosecutor general's office, participated in a call with the Obama-Biden White House ahead of then-Vice President Joe Biden's Dec. 2015 trip to Kiev to make a speech to the Ukrainian parliament.
In a Dec. 2, 2015 briefing to Burisma released by the House Ways and Means Committee, the board was advised of the content of Biden's speech specifically around the prosecutor general's office—who Biden eventually ended up getting fired in exchange for a $1 billion International Monetary Fund loan.
The Blue Star memo stated, "In response to questions about Ukraine's anti-corruption reforms of the Prosecutor General's Office, Dr. Kahl said that Mr. Biden will reiterate the message that Geoffrey Pyatt, the U.S. Ambassador to Ukraine, has been saying: more needs to be done to enable anti-corruption reforms and not have the Prosecutor General's Office stand in the way of those efforts."
The memo continued, "During his trip, Mr. Biden will stress that it is not enough to set up a separate, special prosecutor for anti-corruption within the Prosecutor General's Office, which has already been done. Rather, the entire institution needs serious reforms to overhaul its corrupt practices."
This was just two days prior to then-Burisma board member Hunter Biden allegedly "call[ing] his dad" at a Dec. 4, 2015 Burisma board meeting in Dubai.
Former Hunter Biden business partner Devon Archer testified that Hunter Biden "called his dad" when he was being pressured by natural gas firm Burisma Holdings, for which they served on the board of directors, for "help in D.C." in Dec. 4, 2015 in Dubai, United Arab Emirates, according to a transcript of his July 31 testimony to the House Oversight Committee that the committee released on Aug. 4.
Specifically, Hunter Biden was asked for help with government investigations into Burisma and Burisma CEO Mykola Zlochevsky: "The request was I think they were getting pressure and they requested Hunter, you know, help them with some of that pressure… Government. Government pressure on their — you know, government pressure from Ukrainian Government investigations into [Burisma CEO] Mykola [Zlochevsky], et cetera."
The Ukrainian government investigations into Burisma and Burisma CEO Zlochevsky at that time were being led by Ukrainian Prosecutor General Viktor Shokin.
And, Burisma was getting trouble in all different directions: "[T]here was several pressure issues. It was kind of a theme of Burisma. There was capital tied up in London, 23 million pounds. There was, you know, a U.S. visa denied and then a Mexico visa denied. And then there was — so [Ukrainian Prosecuto General] Shokin wasn't  specifically on my radar as being an individual that was — that was targeting him. But yes, there was constant pressure. And it was like — it was like whack-a-mole in regards to the pressures that had to resolve."
Archer added, "it was a high-pressure environment, and … there was constant requests for help."
And according to Archer, when requested for help, Hunter Biden "called his dad," then-Vice President Joe Biden, but said he did not hear the phone call: "Listen, I did not hear this phone call, but he — he called his dad."
When asked how he knew that if he did not hear the phone call, Archer stated that Burisma CFO Vadym Pozharsky told him so: "Because he — because I think [Burisma CFO] Vadym [Pozharsky] told me. But, again, it's unclear. I just know that there was a call that happened there and I was not privy to it."
As it turns out, Burisma via Blue Star knew exactly what Biden was going to say at the speech, and they wanted to talk to him about it.
In the speech to the Ukrainian Rada (the legislature) on Dec. 9, 2015, just days after the Burisma board meeting in Dubai, then Vice President Biden stated of Shokin and his office was "desperately [in need of] reform": "[I]t's not enough to set up a new anti-corruption bureau and establish a special prosecutor fighting corruption. The Office of the General Prosecutor desperately needs reform. The judiciary should be overhauled. The energy sector needs to be competitive, ruled by market principles — not sweetheart deals."
Biden added, "It's not enough to push through laws to increase transparency with regard to official sources of income. Senior elected officials have to remove all conflicts between their business interest and their government responsibilities."
Interestingly, neither the speech nor State Department testimonies to Congress made public to date called for the removal of Shokin, but it would surely happen by Biden's own hand in the coming weeks and months. Somewhere along the way, the policy shifted.
In Jan. 2018, Biden bragged to the Council on Foreign Relations about getting Shokin fired by threatening to withhold a $1.2 billion International Monetary Fund (IMF) loan from then Ukrainian President Petro Poroshenko in March 2016.
According to Biden, "I said, 'You're not getting the billion.' I'm going to be leaving here in, I think it was about six hours. I looked at them and said: 'I'm leaving in six hours. If the prosecutor is not fired, you're not getting the money.'… Well, son of a bitch, he got fired. And they put in place someone who was solid at the time."
Shokin in April 2019 told journalist John Solomon that prior to the election of the new Ukrainian President Volodymyr Zelensky, he was removed in 2016 because of his investigation of Burisma, which Biden's son, Hunter, served on the Board of Directors of.
In an affidavit in a European court in Sept. 2019, Shokin testified, "The truth is that I was forced out because I was leading a wide-ranging corruption probe into Burisma Holdings, a natural gas firm active in Ukraine and Joe Biden's son, Hunter Biden, was a member of the Board of Directors… On several occasions President Poroshenko asked me to have a look at the case against Burisma and consider the possibility of winding down the investigative actions in respect of this company but I refused to close this investigation."
This was the matter President Donald Trump sought to have Ukrainian President Volodymyr Zelensky "look into" on the July 25, 2019 phone call with current Ukrainian President Volodymyr Zelensky. In the phone call with Zelensky, Trump said, "It sounds horrible to me."
Perhaps it was not enough that the prosecutor general's office be reformed, the lead prosecutor had to go, and Burisma was positioned to get Biden to do it for them.. It doesn't sound like it was hard.
Robert Romano is the Vice President of Public Policy at Americans for Limited Government Foundation.