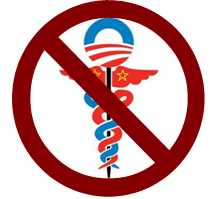 By Rick Manning
ESPN's  GameDay show made a November appearance on the downtown Los Angeles campus of the University of Southern California prior to the Trojans football game against the Stanford Cardinal.
The outcome of the game is unimportant, except that SC's victory knocked the Cardinal (color not bird) out of any talk for a national title.
The reason the GameDay appearance was significant for this article was a single sign held up by an apparently ill-informed USC student mockingly declaring, "Stanford Supports Obamacare."
While it is unclear whether Stanford University has taken a position supporting Obamacare, it is 100 percent certain that USC, my alma mater, has received a $500,000 grant from the California Endowment to promote the failing health care law.
As a private university there is nothing untoward for one of their various schools to take on research or grant projects and that is exactly what the Norman Lear Center for Entertainment did.  They received a half million dollars to get positive placements and mentions for Obamacare in targeted English and Spanish language television productions.
USC's Lear Center was chosen for this task due to their having worked with nearly 100 television shows doing storyline placements  ranging from "Mad Men" to "Desperate Housewives" to "The Bold and the Beautiful."
The California Endowment's Daniel Zingale describes USC's Lear Center's role saying, "They'll be giving them content, storylines, information, so that people watching those program will learn about Obamacare and useful information about how to get enrolled."
But what does it really matter if some soap opera has a young character who refuses to get coverage ends up ill and dies, as his family and loved one's including his gay sister who urged him to sign up for Obamacare try to pick up the pieces after his emotional and preventable demise.
In case anyone doesn't believe that this type of drip, drip, drip of messaging through entertainment is meaningful consider the Lear Center's self-described manifesto which opens with these haunting words,
"By Plato's century, the trouble with entertainment is apparent.  When people listen to the Bards, he warns in the Republic, it's as though they are enchanted.  They forget themselves; they're manipulable; irrational; they're everything a good citizen isn't.  The danger of the arts, he says, is their power to instill values hostile to the community.  So, he banishes the poet from the ideal state to protect us from what can happen when we are spellbound."
Propagandists, politicians, advertisers, and tyrants have always sought the means to manipulate the masses, and that is what is at the heart of USC's Lear Center's mission.
Marvin Kaplan, who runs the Center explains how it works this way, "We know from research that when people watch entertainment television, even if they know its fiction, they tend to believe that the factual stuff is actually factual."
The reason Kaplan's work matters is because it does work.  Anyone who has watched entertainment television in the past decade knows that when a storyline is hot, it runs through a variety of different shows in different iterations.
This is the exact outcome that Kaplan is getting paid to produce – a general acceptance and agreement with Obamacare through repeated entertainment exposures that isolate and shame those who oppose it on the small screen, while keeping preachiness at a minimum.
Kaplan contends that the public typically gets as much, if not more, information about current events from favorite TV programs as mainstream news outlets, so "people learn from these shows."
Not totally surprisingly, if Kaplan runs out of storyline ideas, it turns out he can turn to another USC colleague at the School of Social Work, who earlier in the year received a government grant for just under $500,000 to, according to the University, "explore how recent health care legislation affects the ability of substance abuse treatment programs to serve racial and ethnic minority clients."
The whole downtrodden substance abuse angle should make for great fodder as storylines in everything from crime dramas to soap operas.
And when you see it, you now know where it came from and that you are being deliberately manipulated or brainwashed.
If it were me, I'd just turn off the television and read a good book.
As for that USC student holding up the anti-Obamacare sign, perhaps he should consider going to arch-rival University of Notre Dame which is actually suing to prevent the implementation of part of the Obamacare law, rather than paying his tuition dollars to those who are actively promoting it.
Rick Manning (@rmanning957) is vice president of public policy and communications for Americans for Limited Government, a graduate of the University of Southern California and the former head of the Nation's Capitol USC Alumni Club.