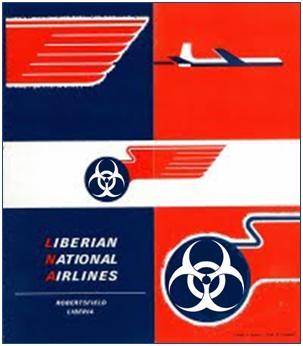 By Robert Romano
No sooner than the Centers for Disease Control and Prevention (CDC) issued a watered-down "Active Post-Arrival Monitoring for Travelers" from Ebola-stricken Liberia, Sierra Leone, and Guinea on October 22 than New York City's first case was announced a day later.
Unfortunately, Dr. Craig Spencer had already arrived from Guinea after treating Ebola patients via a flight from Brussels on October 17.
Not that "Active Post-Arrival Monitoring for Travelers" would have done a darn thing from stopping him from traveling in the first place, and then upon arrival in New York taking the subway and going bowling.
All the new policy does is "require travelers to report the following information daily:  their temperature and the presence or absence of other Ebola symptoms such as headache, joint and muscle aches, weakness, diarrhea, vomiting, stomach pain, lack of appetite, or abnormal bleeding; and their intent to travel in-state or out-of-state."
And if they don't check in? "In the event a traveler does not report in, state or local public health officials will take immediate steps to locate the individual to ensure that active monitoring continues on a daily basis."
To assist travelers, the new monitoring scheme distributes "a CARE (Check And Report Ebola) kit at the airport that contains a tracking log and pictorial description of symptoms, a thermometer, guidance for how to monitor with thermometer, a wallet card on who to contact if they have symptoms and that they can present to a health care provider, and a health advisory infographic on monitoring health for three weeks."
A thermometer! How handy.
In addition, the Department of Homeland Security is now requiring all travelers from the three afflicted countries to fly into New York's JFK, Newark, Dulles, Atlanta and Chicago.
According to a statement by DHS Secretary Jeh Johnson on October 21, "Passengers flying into one of these airports from flights originating in Liberia, Sierra Leone and Guinea are subject to secondary screening and added protocols, including having their temperature taken, before they can be admitted into the United States."
Of course, none of these steps, critically, are preventing passengers with Ebola from getting on board airplanes. So, they're not at all travel restrictions in any sense at all.
They only attempt to spot symptoms. The problem is it can take more than a week for the virus to incubate.
Spencer did not start showing symptoms until days after he arrived in New York.
Yet, CNN reported that somehow there was "New travel restrictions in place." The LA Time reported "U.S. tightens travel restrictions from West Africa to curb Ebola."
It's misleading. At the moment, we may be dodging a bullet with Spencer and other Air Ebola passengers.
But with thousands of cases reported in West Africa, and thousands more are expected weekly as the disease runs out of control, we may not be so lucky in the future.
The fact is, so far, the global spread of the disease has been via air travel.
Thomas Duncan boarded a plane bound first from Liberia to Brussels, then to Dulles Airport in northern Virginia, and then arrived in Dallas, Texas on September 20. Then he got two nurses in the U.S. sick, one of whom unwittingly took a round trip to Cleveland, Ohio and back to Dallas while exhibiting symptoms.
The same thing happened in Spain, where two missionaries of the Brothers Hospitallers of St. John of God were evacuated to Hospital Carlos III in Madrid. Now a nurse who had cared for the patients there has contracted the virus.
The same thing happened in Nigeria. Patrick Sawyer traveled from Liberia to Lagos, Nigeria, with the disease. One of the nurses who treated Sawyer, who has since died, contracted the disease, along with a doctor, who has also died. Eight total died. Fortunately, the outbreak has been contained there with no new cases.
But as the virus spreads out of control in Liberia, Sierra Leone, and Guinea, the odds of its continued global spread rise so long as air travel is not restricted. Which is exactly why both New York and New Jersey, for the moment, have implemented their own mandatory quarantines for passengers including health care workers who are aware they have been in contact with Ebola patients from West Africa.
Of course, that will do nothing stop travelers who are unaware they have been infected or been in contact with anybody who is infected. And, travelers seeking medical care for fear of contraction now know there's a hospital bed waiting for them if they land in the U.S.
In the meantime, President Barack Obama has statutory authority to "suspend the entry of all aliens or any class of aliens as immigrants or nonimmigrants, or impose on the entry of aliens any restrictions he may deem to be appropriate."
He could ground Air Ebola today if he wanted to. Every day he dithers is another day we are risking a serious outbreak here.
Robert Romano is the senior editor of Americans for Limited Government.