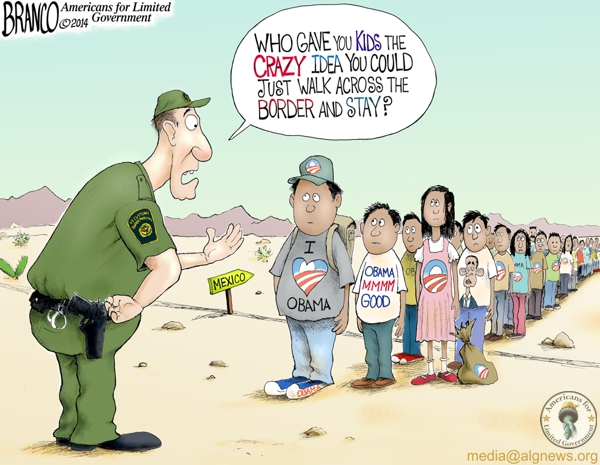 Now that the 2014 elections are in the books, all sights now turn back to Washington, D.C. both for Congress' lame duck session — members still haven't completed the 2015 budget — and also for Barack Obama's anticipated action on the illegal immigration question.
Readers will recall that in July, the Associated Press reported that "White House officials are making plans to act before November's mid-term elections to grant work permits to potentially millions of immigrants who are in this country illegally, allowing them to stay in the United States without threat of deportation."
But then, the decision was deferred until after the elections, reported CNN in September, according to a White House official who acknowledged that the political repercussions of amnesty were weighed: "It's too big of an issue to allow it to be used as a tool for people trying to get votes."
Of course, that did not stop candidates in the midterms, such as New Hampshire's Scott Brown, from campaigning on the issue with some effect.  Throughout the campaign season, the specter of amnesty has hung like a cloud, and probably hurt Democrats in this cycle.
Under federal law, illegal immigrants are subject to deportation. But, ever defiant, ABC News Chief White House Correspondent Jon Karl reported on Tuesday that Obama is gung-ho for amnesty, regardless of how the American people voted: "White House officials tell me that the president will move forward with an executive order on immigration reform no matter how big a shellacking Democrats get tonight."
So, how might Obama get around that to "grant work permits"?
CNN reported several options.
One is an expansion of the program of granting refugee status for tens of thousands of children and others who came across the nation's southern border. The Department of Health and Human Services (HHS) has been relocating them via the Office of Refugee Resettlement under a part of federal law that provides for "the care of unaccompanied alien children."
Obama is said to be considering expanding the program to the children's parents, even though there is no provision under law allowing them to travel here and stay.
Perhaps he wants to grant them refugee status, even though Congress never authorized nor intended such status to be used to grant amnesty or resettle illegal immigrants that cannot claim to be legitimate refugees.
According to the State Department, "A refugee is someone who has fled from his or her home country and cannot return because he or she has a well-founded fear of persecution based on religion, race, nationality, political opinion or membership in a particular social group." It says resettlement is a "solution for only a few."
Bear in mind that there is no upper limit on refugee admissions ceilings under law. It simply states the number of refugees "may not exceed fifty thousand unless the President determines, before the beginning of the fiscal year and after appropriate consultation … that admission of a specific number of refugees in excess of such number is justified by humanitarian concerns or is otherwise in the national interest."
On the other hand, Obama's State Department already submitted its admission ceilings for the fiscal year, only including 6,000 expected refugees from Latin America and the Caribbean.
As a result, it remains unclear under what legal pretense Obama might grant amnesty, but now that the elections are over, all indications are that is exactly what he is planning.
But Congress is not without recourse. Members will want to consider deferring the rest of the budget until next year with a short-term continuing resolution extension, or else defunding any amnesty in the upcoming continuing resolution.
Something for the incoming Congress to consider, if the Fiscal Year 2015 budget is fully funded through September 30, the opportunity to stop Obama's amnesty will have passed.
Robert Romano is the senior editor of Americans for Limited Government.