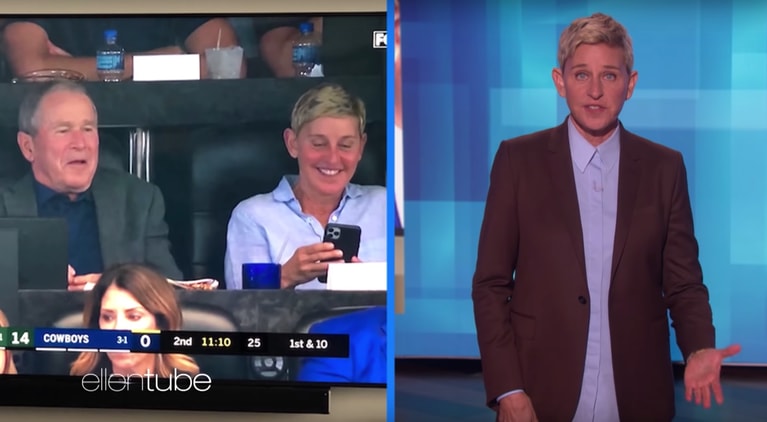 America is tearing itself apart — over everything. Politics. Cultural issues. Economics. Foreign policy. Social justice.
Everything is put through that prism, and for some, the issues we are confronting today are simply irreconcilable, and define every single aspect of our existence, including who we are allowed to keep company with—even friends and family members. We are all in camps.
Drip by drip, moment by moment, these differences are breaking our bonds. As friends, family, and if we can't find a way to stop it, as a country. We can lose everything. Don't think we can't.
But we also don't have to. This was on display when a light-hearted moment appeared on the American people's television screens on Oct. 6 when the Dallas Cowboys hosted the Green Bay Packers. Ellen DeGeneres and former President George W. Bush were pictured sitting together, laughing and enjoying the game.
God forbid. DeGeneres faced some backlash on social media, but the full fury would not come — with celebrities denouncing DeGeneres for consorting with a "war criminal" — until she defended in a monologue on her television program not only her friendship with the former president, but our civil society as a whole.
Here's what she said: "During the game they showed a shot of George and me laughing together and so people were upset. They thought, why is a gay Hollywood liberal sitting next to a conservative Republican president?… But a lot of people were mad and they do what people do when they're mad: They tweet."
DeGeneres found one tweet she did like, though, from a user who wrote: "Ellen and George Bush together makes me have faith in America again." Her audience cheered loudly and DeGeneres clapped and exclaimed, "Exactly."
She added, "Here's the thing: I'm friends with George Bush. I'm friends with a lot of people who don't share the same beliefs that I have. We're all different and I think that we've forgotten that that's okay that we're all different."
DeGeneres concluded, "I wish people wouldn't wear fur, I don't like it, but I'm friends with people who wear fur… But just because I don't agree with someone on everything doesn't mean that I'm not going to be friends with them. When I say be kind to one another, I don't mean only the people who think the same way that you do. I mean, be kind to everyone. Doesn't matter." Her audience loved it and gave her an ovation, and so do I.
In a time where actor Mark Hamill, who depicted Luke Skywalker in Star Wars, mean-spiritedly attacks Ivanka Trump and Jared Kushner for posting a fun family photo with their kid dressed up as a Star Wars character, later walking it back by "agreeing" that the kid was awesome (wasn't that the point of the picture in the first place, Mark?), DeGeneres' take is refreshing.
My parents and my entire immediate family are Democrats. I am not. But a family we remain. We love each other unconditionally. Family first, not politics.
And country first, not party.
At the end of the day, America is still a country — and we all have to fight for it before we lose the civil society forever. Republicans, Democrats, independents. Everyone. Thank you, Ellen, for helping all Americans to see that.
Robert Romano is the Vice President of Public Policy at Americans for Limited Government.