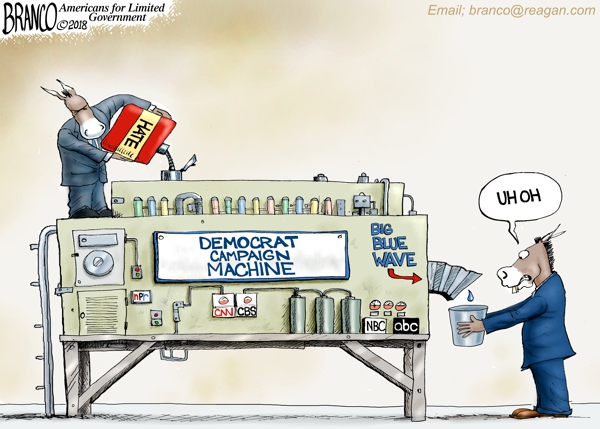 Because they want you to convince you that Trump has no chance of winning next year, the liberal media would like for you to believe that there was a massive blue wave that washed across the country last week, but that is just not true. Republicans did suffer some setbacks, particularly in suburban areas; but they also made gains, which the liberal media has conveniently ignored or downplayed. The media was particularly pleased with Democrats' performance in Virginia and Kentucky, but there are simple explanations for what happened in those states. Meanwhile, the media has not said much about Mississippi, New Jersey, Indiana, Texas, Colorado or Washington — probably because Republicans and conservatives won there.
Instead of a blue wave, what Virginia saw was a green wave of money — much of it from out-of-state — after a last-minute, court-ordered redistricting. According to Kim Strassel, Democrats, including, George Soros, Tom Steyer, and Michael Bloomberg, dumped over $50 million into Virginia. But despite Democrats' hatred of Trump and their significant financial advantage, Democrats only gained eight legislative seats out of 140; and half of the losses suffered by Republicans took place in districts that were redrawn. Even after the liberal onslaught, Virginia Republicans will still hold 45 of 100 delegate seats and 19 of 40 state senate seats; in the not-so-distant past, Republican legislative caucuses were even smaller there.
Elections in Kentucky and Connecticut were a mixed bag for Republicans. In Kentucky, the unpopular Republican governor of Kentucky was defeated by about 5,000 votes out of more than 1.4 million votes cast. Except for the governor and lieutenant governor's offices, Republicans won all of the statewide offices there, picking up both the attorney general and the secretary of state's offices that had previously been held by Democrats. In Connecticut's local elections, the Republican Party and the Democrat Party traded seats. Republicans gained control of 12 localities from Democrats, and Democrats gained control of 11 localities from Republicans.
Pennsylvania elections were also a mixed bag for Republicans. In local elections, Democrats flipped five counties in the eastern part of the state; Republicans flipped six counties, mostly in the western part of the state. In judicial elections, two Republicans and two Democrats ran to fill two open seats on the state's Superior Court; and one Democrat and Republican prevailed. The state also held judicial retention elections. Four judges ran to keep their seats; and all three Republican judges were retained. Finally, Pennsylvania voters overwhelmingly supported an amendment to the state constitution granting crime victims the right to notice of public proceedings relating to the crime committed against them, the right to speak at such proceedings, notice when a prisoner is released or escapes, and restitution.
Republicans performed pretty well in deep-blue New Jersey. Going into the elections, Democrats had hoped to build upon their recent legislative and Congressional victories. Instead, Republicans gained three state legislative seats in spite of Democrats' large funding advantage. This is the first time in 28 years that New Jersey Republicans made gains in both chambers of the legislature.
Liberals fared poorly on ballot measures in places that are typically friendly to their candidates and ideas. In deep-blue Washington State, voters narrowly rejected a referendum that would have allowed the state to use affirmative action policies. Washingtonians also approved an initiative that limits car fees and taxes in spite of the fact that opponents, including Amazon and Microsoft, heavily outspent supporters of the initiative. In left-leaning Colorado, voters rejected a proposition that would have allowed the state to keep more of their tax dollars; once again, the left heavily outspent the right but still lost. Finally, in liberal Tucson, Arizona, voters overwhelmingly defeated a proposition to establish a sanctuary city policy.
Conservatives did well in elections in several Republican states. In Mississippi, Republicans swept all of the statewide races, including the attorney general's office that had previously been held by a Democrat. Mississippi Republicans also added to their legislative caucuses. In Indiana, Republicans flipped 19 mayoral offices and will soon have more Republican mayors than they have ever had before. In Texas, voters overwhelmingly voted to make it nearly impossible to impose an income tax in spite of strong opposition from liberal newspaper editorial boards.
While disappointing in some places, last week's elections were certainly not the unmitigated disaster that the liberal media would like for you to believe that they were. In fact, Republicans and conservative ideas fared well in some usual (and some unusual) places. There is no cause for losing hope.
Richard McCarty is the Director of Research at Americans for Limited Government Foundation.