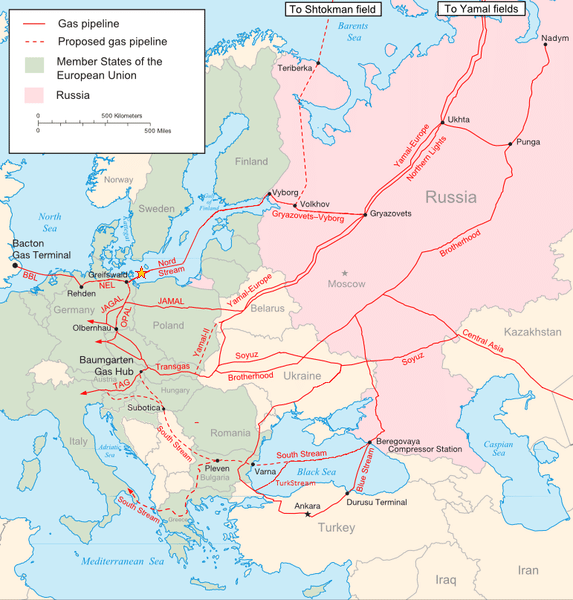 The Nord Stream natural gas pipelines, which until the war in Ukraine had supplied 1.9 trillion cubic feet a year to Europe, and 55 percent of Germany's gas alone, appears to have been sabotaged after two recorded blasts resulted in massive gas leaks into the Baltic Sea.
Owned and operated by Nord Stream AG, a subsidiary of Russia state-owned energy giant Gazprom, in 2005, former German Chancellor Gerhard Schroder approved construction of the Nord Stream 1 pipeline, which was finished and went online in 2012. Nord Stream 2 was built from 2018 and finished construction in Sept. 2021 at a cost of $11 billion, and would have doubled the current pipelines' distribution of 1.9 trillion cubic feet a year to 3.9 trillion cubic feet a year.
In Nov. 2021, Germany delayed final regulatory approval of the pipeline project to about March 2022, right as Russia began moving its forces to its border with Ukraine throughout 2021. After the war began in Feb. 2022, Germany cancelled Nord Stream 2 and by the end of summer 2022 Russia had already completely shut off Nord Stream 1, restricting supplies to Europe as prices went to the moon.
When the wider war in Ukraine began in February, Title Transfer Facility (TTF) in the Netherlands was already up to $25.72 per 1,000 cubic feet, according to the U.S. Energy Information Administration. Prices had peaked in early September at $83.62 before beginning to settle back down as the U.S. and other nations sought to boost production as an offset, down to $56.63 per 1,000 cubic feet before the explosions on Nord Stream.
For comparison, the U.S.-based Henry Hub natural gas is currently trading at $6.79 per 1,000 cubic feet. Even with prices somewhat down, they're still almost 10 times as expensive in Europe compared to here. 
Now, prices are rising once again, as should be expected, as markets contemplate the new chessboard that just lost 3.9 trillion cubic feet a year of potential production from the equation, perhaps permanently. 
Russia has played a major role in supplying European energy for years. In 2020, the European Union imported 9.1 trillion cubic feet of natural gas, according to Eurostat. And about 41 percent Europe's imports come from Russia, or about 3.73 trillion cubic feet a year, 24 percent from Norway at 2.2 trillion cubic feet and 11 percent from Algeria at 1 trillion.
Thus, the loss of Nord Stream as a potential source of energy only appears to deepen Europe's ongoing energy crisis that, combined with the war in Ukraine, grain shortages, and the post-Covid global supply crisis, is plunging the continent into recession.
A good question appears to be who blew up the pipelines. If Nord Stream is permanently damaged, that increases the importance of Russia's pipelines that currently run through both Belarus and Ukraine, and then from there, through Slovakia and Poland.
Here, Russia seemingly lost a piece of leverage. If the Nord Stream pipelines were the carrot for Germany — i.e. "do what we want and we'll turn on Nord Stream" — then the pipelines through Belarus and Ukraine are the stick — i.e. "do what we want or we'll turn off the other pipelines, too". Now, all Moscow has left is the stick.
The impact, therefore, is to close off Germany from Russian natural gas, perhaps for its own "good," if, say, the West, or the U.S. or just Ukraine, or some other third party, were responsible for the attack. Germany's stake in the conflict has dramatically changed without the possibility of further imports from Russia.
Bizarrely, if Russia blew up its own pipeline that it had already turned off, the message could be "the other pipelines are next" and are moving to cut off all European access before the winter.
Or, if it was not Russia, Moscow could still move to now shut off the other pipelines in response, thus further escalating the conflict.
Either way, the implication is that the war in Ukraine is now reaching the rest of Europe in a major escalation. It's the point of no return. Sadly, there are just about two things for nation-states to do with one another in the world: commerce or war. Unfortunately for Europe, as can be seen in the Baltic Sea with the gas rushing to the surface, they are mutually exclusive.
Robert Romano is the Vice President of Public Policy at Americans for Limited Government Foundation.