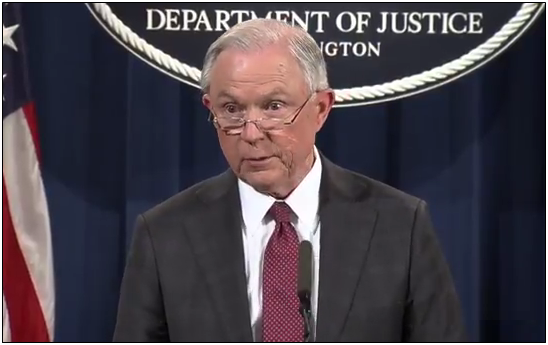 On March 2, Attorney General Jeff Sessions broadly recused himself from "any existing or future investigations of any matters related in any way to the campaigns for President of the United States."
This left then-Deputy Attorney General Dana Boente ostensibly in charge of the supposed Russian 2016 election interference investigation, which passed to Deputy Attorney General Rod Rosenstein, who then handed it off to Special Counsel Robert Mueller in May.
Since that time, Mueller's investigation has reportedly veered into matters unrelated to the 2016 election campaign — Trump's real estate dealings, the Miss Universe pageant, and other unconnected business deals as well as targeting the President's children — and therefore far beyond the scope of Sessions' original recusal.
As a result, the investigation has gained the appearance of an unconstitutional general warrant — a blank check for Mueller to perpetually probe Trump associates until he finds some criminality somewhere, even if it is completely unrelated to the original charge of Russian interference in the 2016 election. A runaway investigation desperately in search of a crime.
This led Americans for Limited Government President Rick Manning to call for Sessions to "bind the Special Counsel to only pursuing matters for which Sessions has recused himself from overseeing as the nation's top cop."
But how? One tactic Sessions might consider is clarifying the scope of his original recusal on "any matters related in any way to the campaigns for President of the United States" — by appointing more special prosecutors to cover other matters that would be beyond the scope of Mueller's mandate on the Russia investigation, but still invariably involve presidential campaigns.
A similar call was made by the House Judiciary Committee Chairman Rep. Bob Goodlatte (R-Va.) and committee Republicans in a July 27 letter to Deputy Attorney General Rod Rosenstein, calling for a second special counsel to be appointed to look at issues separate from the Russia investigation yet still tied to the presidential campaigns and thus to Attorney General Sessions' recusal. They wrote, "The unbalanced, uncertain, and seemingly unlimited focus of the special counsel's investigation has led many of our constituents to see a dual standard of justice that benefits only the powerful and politically well-connected.  For this reason, we call on you to appoint a second special counsel to investigate a plethora of matters connected to the 2016 election and its aftermath, including actions taken by previously public figures like Attorney General Loretta Lynch, FBI Director James Comey, and former Secretary of State Hillary Clinton."
Here, I'll take a slightly different tact, and suggest that there should be a separate special counsel for each one of these investigations.
Specifically, a separate special prosecutor should be named by Sessions to look at former Attorney General Loretta Lynch's handling of the Hillary Clinton private email server containing classified information scandal during the election campaign.  Lynch urged then-FBI Director James Comey to call the Clinton investigation a "matter" instead of what it was, a criminal investigation, and Comey complied with the request. Comey also confronted Lynch about her June 2016 meeting with former President Bill Clinton days before his wife was to be interviewed by the FBI, and three days prior to Comey clearing Clinton of any wrongdoing. Finally, Comey brought an email to Lynch's attention obtained by the FBI involving U.S. Rep. Debbie Wasserman-Schulz that purported to show that Lynch wouldn't let the Clinton investigation "go too far."
Additionally, another special counsel is needed to look into the former National Security Rice Susan Rice and other former Obama administration officials who were responsible for unmasking U.S. citizens from intelligence intercepts, including members of the 2016 Trump campaign and then transition. The investigation would also look at why the FBI was relying on third parties, including the slanderous Christopher Steele dossier and who paid for it via Fusion GPS. Then there is also the Crowdstrike analysis of the Democratic National Committee's to facilitate its witch hunt into all things Russia. It would also look into the leaking of former National Security Advisor Michael Flynn's name to the Washington Post from an intelligence intercept from December when Flynn had a conversation with former Russian Ambassador Sergey Kislyak. Overall, investigators should be looking at who had a political interest in pushing the Trump-Russia narrative and was in a position to leak the bad intelligence.
Yet another special counsel could be appointed to look at the Clinton Foundation's pay for play racket when Hillary Clinton was Secretary of State. As the Associated Press reported in August 2016, more than half of Clinton's non-governmental visitors as Secretary of State were Clinton Foundation donors. Were there any quid pro quos? Might it have had something to do with Clinton's years-long campaign to become President? There's only one way to find out. There should be an investigation led by a special counsel.
Of course, there is the IRS scandal targeting tea party and other 501(c)(4) organizations that were applying for tax exempt status. Starting in 2010, the IRS slow-walked these applications, asking invasive questions and discriminating solely on the basis of ideology. Then-managing director at the D.C.-based technical office Holly Paz has since testified that in Feb. 2010 "a case was identified where there was potential for political campaign activity, and that was when they reached out to Washington and the case was transferred to Washington." Paz said she then forwarded it to agency tax specialist and attorney Carter Hull, who developed many of the invasive follow-up questions that attempted to probe just how political groups intended to be. Michael Seto, the head of Hull's unit said it was Exempt Organization head Lois Lerner who ordered that the tea party applications be subjected to special scrutiny. In 2013, Lerner pleaded the Fifth Amendment right not to incriminate herself. Perhaps a fresh look at this scandal is needed to root out any potential criminal wrongdoing. Was this a part of the Obama administration's push to suppress tea party groups for his own reelection campaign? There should have been a special counsel then, so why not one now?
Then was the Fast and Furious gun-running scandal from 2009 to 2011 by Justice Department officials whose actions got a Border Patrol agent and hundreds of Mexicans killed. The White House was so concerned that it claimed executive privilege over documents related to the operation, whose guns were turning up at crime scenes on both sides of the border. This might not have had anything to do with presidential campaigns, per se, but surely the cover-up was intended to help Obama's reelection campaign in 2012 and was certainly politically motivated. Either way, this was another where there should have been a special prosecutor, but Obama's then-Attorney General Eric Holder did not appoint one.
Finally, there is Ukraine's alleged interference in the 2016 election to attempt to help the Hillary Clinton campaign win, broken by Politico in January. If the Russia interference gets a special prosecutor, why not Ukraine, whose civil war threatens to destabilize the entire region? We need to know what ties Ukraine had to the Clintons and if any U.S. officials were involved during Obama's term of office. Were they all working together? Who knows? It might shed more light on other aspects of the Russia investigation, which we all want to get to the bottom of, right?
That should be enough to keep the Justice Department busy for quite a while, and politically might create a mutually assured destruction scenario for both Democrats and Republicans. If the standard now is we need special prosecutors to investigate politically charged allegations — where merely the allegations are enough to get the special counsel appointed — to see if any crimes were committed, let's have at it. You don't even need a warrant. Just an Attorney General or his designee who is willing to create the prosecuting offices to pursue criminal charges even if you don't initially know what the crime was.
Sure that's not what the regulations say, as noted by the National Review's Andrew McCarthy.
But if we're going to pervert the Justice Department to becoming a political animal to destroy political enemies such as via the Mueller investigation with general warrants in search of crimes, it might as well become a bipartisan affair.
Robert Romano is the Vice President of Public Policy of Americans for Limited Government.